| Source: STRATEGIC MARKET RESEARCH LLP STRATEGIC MARKET RESEARCH LLP
Sambalpur, INDIA
New York,USA, Aug. 25, 2022 (GLOBE NEWSWIRE) — The cyber security market worth was USD 216.11 Billion in 2021 and is forecasted to reach USD 478.68 Billion by the year 2030 with a 9.51% CAGR. Cyber security is defined as the practice of safeguarding mobile devices, networks, servers, and various electronic devices from different types of malicious attacks, the continuous growth in the Number of Targeted Assault Cases, Online Scams, and Specialized Sophisticated Cyber-attacks to fuel the Market Growth Exponentially.
To get a first-hand overview of the report, Request a Sample at
https://www.strategicmarketresearch.com/request-sample/cyber-security-market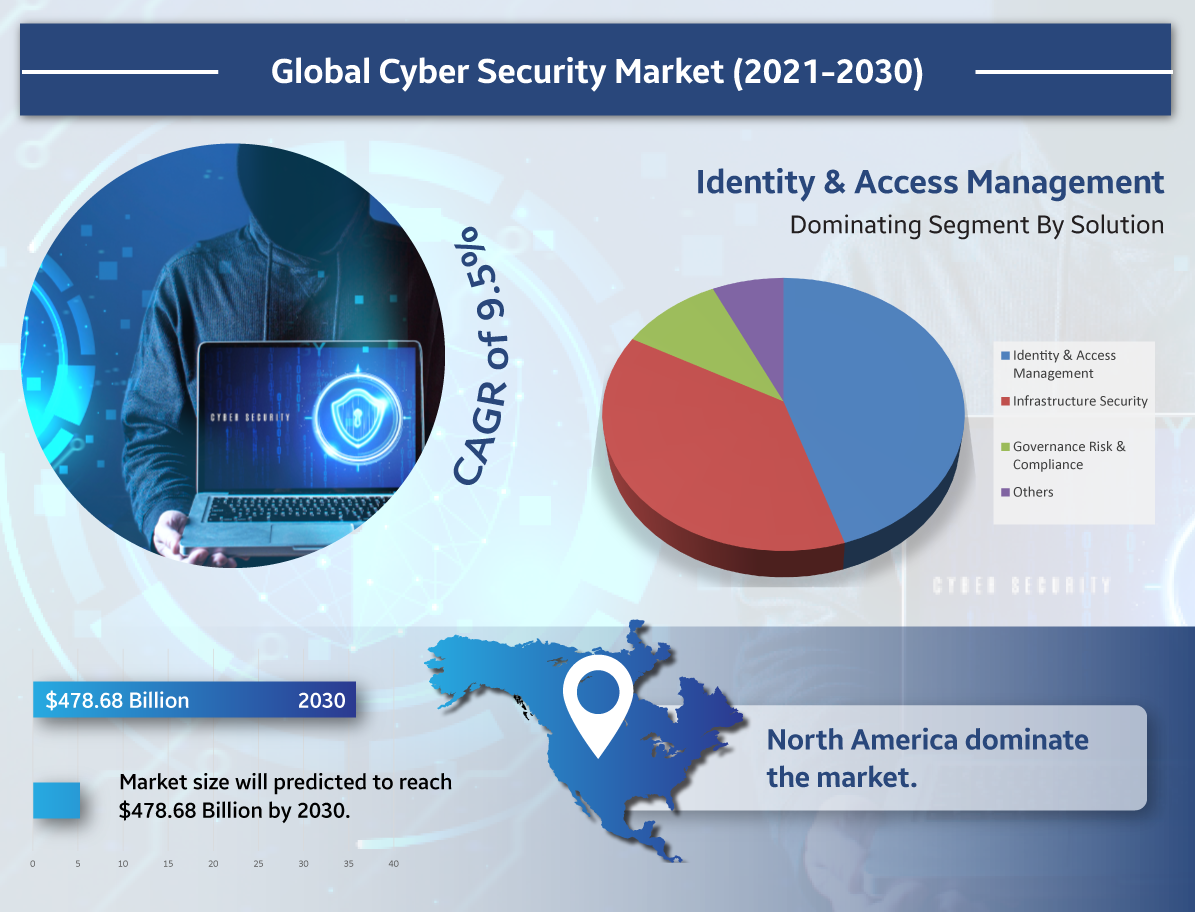 Notable Factors for Cyber Security Market:
List of factors propelling the cyber security market growth: 
(Rise in the number of cyber-attack cases, the prevalence of new E-Commerce cyber security trends, and usage of targeted assaults are enhancing the market growth rate)


Cyber Security Market: A Thorough Segmentation Analysis
The worldwide cyber security market is segmented into Component, Security Type, Deployment Outlook, Applications, & Geography. 
For Component 
For Security Type 
For Deployment Outlook, 
For Application 
Geographical Analysis
North-America
APAC or Asia-Pacific 
Europe
Rest of World
Make a Direct Purchase of the latest Cyber Security Market Report published in the month of July 2022. Click the below link to initiate the purchase: 
https://www.strategicmarketresearch.com/buy-now/cyber-security-market
The Service segment held the maximum share of 51.77% for the component sector. This is due to the rise in demand for IT outsourcing services for the monitoring and maintenance of cyber security solutions. It is also regarded as one of the most efficient ways to save time and money, as these external service providers can handle some serious issues of cyber security skill gaps in the it sectors worldwide. Cybersecurity Ventures revealed that across the globe, the usage of IT outsourcing services surged by (21 to 30) % in 2022 as compared to last year.
The infrastructure security segment of the security type section dominated the market comprehensively with a share of 26.11%. Infrastructure security helps to identify the list of systems and assets that are more vulnerable to cyber-attacks across a variety of industries like Energy, Transportation, Oil & Gas, Manufacturing, Chemical, etc. Moreover, an exponential rise in the usage of IoT devices are fuelling the growth rate of this sector. SMR's study has reported that around 24 billion IoT devices exist currently across the globe, out of which almost 32% are used for protection against malicious cyber-attacks.
For deployment outlook, the on-premises segment held the maximum market share of 58.21%. The on premises deployment highly reduces the rate of dependency on the 3rd party organizations for providing explicit cyber security monitoring and data protection. SMR conducted a global survey where it was discovered that around 54% of respondents stated that almost 50% of the sales of software platforms were deployed on premises. Around 32% of respondents stated that (50 to70) % of their software was deployed on premises, and nearly 6% of respondents stated that approximately 90% of their software sales were deployed on premises. 
For the application section, the government and defence sector accounted for the maximum market share of 21.23%. The government and defence organizations are much more vulnerable to cyber-attacks as the criminals are always on the hunt to penetrate through the websites that contain some highly confidential information about these sectors. Hence, the Japanese government increased its defence-budget to almost USD 47.26 billion in 2022, out of which it allotted nearly USD 300 million for strengthening its defence against the dangerous cyber-attacks.
For the regional section, North-America comprehensively led the overall growth of the market with a share of nearly 43.78%. The US government has taken some serious steps to mitigate the risks of cyber-attacks by investing huge funds into this sector. Last year, in the USA, around 13,654 cyber-attacks were reported by federal agencies, out of which 5.6% of the cases were of data-breaching.  
APAC region registered the fastest growth rate of 15.88% of the cybersecurity market due to the rise in usage of IoT devices in the countries like India, Japan, and China. In 2020, nearly 4.2 billion IoT connections were established in China, out of which nearly 47% were developed for protection against cyber-attacks.
Players operating in Cyber Security Market:
Before initiating a purchase, make a Pre-order enquiry and get a detailed overview of the content of the report.
https://www.strategicmarketresearch.com/pre-order-enquiry/cyber-security-market
Recent Developments
        To read the summary of the report, visit the website at
        https://www.strategicmarketresearch.com/market-report/cyber-security-market

Related Reports


Brain-Computer Interface
The report on Brain-Computer Interface Market Report prepared by SMR adequately describes its different factors like drivers, opportunity, restraints, etc. The worldwide market value of Brain-Computer Interface in 2021 was USD 1505.6 Million and will rise up to USD 5340.38 million in 2030 with a 15.11% CAGR. The key augmenting factors of the market are a rise in neurological diseases, an increase in growth of the gaming industry, a rise in government funds in R&D, etc. The crucial organizations involved are Cortech Solutions, Cadwell Industries, and g.Tec Medical Engineering Gmbh, Natus Medical, Integra Lifesciences, etc.
Social Commerce
SMR's Social Commerce Market Report outlines an in-depth insight regarding its challenges, drivers, opportunities, etc. The Social Commerce Market revenue was USD 0.62 trillion in 2021 and will grow to USD 7.03 trillion in 2030 with a 30.81% CAGR. A rise in business opportunities for SMEs, frequent changes in consumer preferences, etc., are enhancing the market growth globally. Key organizations operating in this market are Roposo, Pinduoduo, Meta Platforms, Pinterest, Inc., Fashnear Technologies, Poshmark, etc.
Metaverse
The Metaverse Market Report of SMR explains a detailed concept about its opportunities, scopes, challenges, drivers, etc. The Metaverse Market worth in 2021 was USD 47.48 billion and will value up to USD 678.80 billion in 2030 with a 39.44% CAGR. The factors that are continuously facilitating its growth include the rise in usage of digital assets, cryptocurrency, Blockchain technologies, etc. The list of market players include Meta, NVIDIA, Microsoft Corp, Alibaba Cloud, Alphabet, Queppelin, etc.
Flat-Panel Antenna
The Flat Panel Antenna Market Report of SMR clearly explains its different factors like opportunities, threats, challenges, drivers, etc. The Flat-Panel Antenna Market value was USD 467.02 Million in 2021 and will account for nearly USD 4662.08 Million in 2030 with a 29.13% CAGR. The factors accelerating the market growth continuously are the advent of highly advanced antenna systems, growth in the number of autonomous and commercial vehicles, etc. Key organizations operating in this market are Kymeta Corp, Hanwha Phasor, ThinKom Solutions, OneWeb, TTI Norte, etc.
Ligation Devices
The Ligation Devices Market Report crafted by SMR elucidates a detailed idea about its various facts like challenges, drivers, opportunities, etc. The Ligation Devices Market accounted for almost USD 992.94 Million in 2021 and will reach USD 1745.69 million in 2030 with a 6.47% CAGR. Factors proliferating its growth are an increase in the number of surgeries worldwide, a rise of MI procedures, and the advent of treatments like tubal occlusion, bipolar coagulation, etc. Organizations operating in this market are ConMed Corp, Ethicon, Applied Medical, Olympus Corp, B Braun Melsungen, etc. 
About Us:
Strategic Market Research facilitates the organizations globally in taking pivotal business decisions by furnishing the Syndicated and Customized Research Reports, which are highly precise in terms of market numbers. We believe that every firm, whether it is a startup which is in the Introduction stage of the Product Life cycle or an established one which is at the growth stage, requires market research services in order to streamline its key business blueprint. It may be related to Product Launch, Go to Market strategies, Competitive Analysis or new geographical penetration and expansion.
Contact Us:
Strategic Market Research LLP.
Sunil Kumar 
India: +91-8260836500
Email: info@strategicmarketresearch.com
Web: https://www.strategicmarketresearch.com
Blog: https://www.strategicmarketresearch.com/blog
Blog: https://www.strategicmarketresearch.com/blogs/property-management-industry-statistics
Press Release: https://www.strategicmarketresearch.com/press-releases
Connect Us:
LinkedIn: https://www.linkedin.com/company/strategic-market-research/
Twitter: https://twitter.com/smrstrategic
Facebook: https://www.facebook.com/StrategicMarketResearch
Instagram: https://www.instagram.com/strategicmarketresearchsmr/